The Music & Writings of Graham Jackson
Notice
Graham Jackson passed away peacefully overnight on the night of 28th of December, 2020. His sons are working together to collect his life's work and we will continue to support this website to make it available. Please bear with us in patience as we work out all of the details.
Who is Graham Jackson?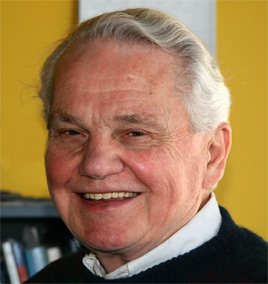 Graham H. Jackson is a man of many parts. And he has spent large parts of his life focused on other things than music. One reason is that he has always tried to find ways to imbue his work with spirituality.
Born in Toronto in 1931 into a theosophical family, he graduated from the Royal Conservatory of Music at 17, earning his A.R.C.T. piano diploma with the 2nd-highest marks in Canada. For various reasons, however, he decided not to follow the urging of his teacher (Earle Moss) to become a concert pianist. In the School Music program at the University of Toronto he concentrated on choral conducting, directing at times the U.C.Singers, his own 9-man group (The Varsiteers), and ass't conducting the famed Hart House Glee Club for 5 years.  In his 2nd year, he directed an operetta, Naughty Marietta, and was preparing to do another one when the funding was discontinued.   After gaining his Mus.Bac, he went on still to study composition for 2˝ years with John Weinzweig, Oskar Morawetz and Godfrey Ridout.
Meanwhile he had transferred his interest in theosophy to Rudolf Steiner and the education he founded, called Waldorf. He trained as a Waldorf teacher in New York and England, taught English in Germany, returned to England to train further in Bothmer Gymnastics, where he also taught gym and art in Waldorf schools. After a year living with, and teaching, emotionally disturbed children and another with mentally challenged children, he married Veronica Wegerif, another musician, and returned to Toronto in 1963.
During 5 years in Toronto, he taught piano with the Royal Conservatory of Music of Toronto, while also teaching keyboard harmony at the University of Toronto, and became an examiner for both. Immersing himself in work for Rudolf Steiner's philosophy, called anthroposophy, he started the campaign which led to the founding of the first Waldorf School in Canada in 1968, the Toronto Waldorf School, by giving a series of five public lectures on Waldorf education.
Another upheaval followed (mainly at his wife's prompting) when they moved with their two sons to Pennsylvania for 7 years, joining the staff of a residential school for mentally challenged children, Beaver Run, also based on Steiner. As in all the over 100 institutions run by the Camphill Community, coworkers are usually not paid, but buy what they need out of the community's funds. There he was a house-father, did all sorts of jobs, from bathing children, to maintenance, to teaching, to music therapy.
After again 7 years, they moved to another Camphill place, this time a rural "village" for mentally challenged adults near Cape Town, South Africa, Veronica's birthplace. Here, besides being a house-father, he ran the woodwork shop and acted as manager and travelling salesman for the various craft workshops, selling to stores across South Africa. Two more sons arrived. 
An amicable separation followed in 1982. Returning to America, he spent a year playing piano for the School of Eurythmy in Spring Valley N.Y., then finally moved back again to Toronto, mainly to work with the new Rudolf Steiner Centre in adult education. Teaching piano, mostly at the Toronto Waldorf School, he also played a few concerts, gave lecture-recitals of Beethoven Sonatas, and gradually moved more and more into playing for eurythmy classes at the school. Actually, through all the years in Waldorf schools and Camphill, he had continued to play informal recitals and play for eurythmy classes. He also played organ and led the choir at an Anglican Church for twelve years.
Since 1963, he had also been working on a book, at times intensively, at other times not. It grew so large, it was split into three books, of which the second, core, volume is now called The Spiritual Basis of Musical Harmony. Although it had been "finished" and revised several times since 1982, it was at last published in 2006 by a small local publisher.
Although a shift in his ideas means he no longer works so actively in anthroposophy, finding himself now somewhere between Steiner and Blavatsky (although definitely leaning to Steiner), he as strongly as ever wants to find ways of consciously awakening the spiritual element in music for the future. He believes that live rather than recorded music is the way to go, but does what works. Hence he has made the two CD's reviewed on this website, plus the more recent Chopin CD, which are a modest attempt in this direction.